I've been a little late blogging about my new years adventures thus far, but one thing has been certain…. Ron and I have been spending a great deal of time watching MOVIES (thanks largely in part to my dad). Movies I highly recommend viewing are: Seven Pounds (powerful story), The Curious Case of Benjamin Button (interesting plot), Slumdog Millionare (another powerful and facisnating story), and of course… Marley & Me.
Although all of these movies are highly recommended, I'd have to say that Marley & Me hit right close to home. I think I cried throughout most parts of this movie because of my own personal experiences with my past dogs, Cookie and Stitch. Cookie, reminded me so much of Marley! And I know alot of my old friends and family that knew her could definitely relate (especially Robert & Carlo, I'm remembering a time when we were playing basketball and Cookie decided to play, haha… or the other times when Cookie would literally dance with us).
I miss that dog and Stitch so much and I'll never forget them or the life lessons they taught me while growing up. I wouldn't expect anyone to understand the bond between a dog and his/her owner unless you were a true "dog love" yourself. But I will say this: The fondest memories of Cookie and Stitch have been the moments when I'd shut the world out and bury myself underneath the bed covers. Although they possesed only animal instincts, they knew how to find their way through the sheets, and plop their warm bodies right next to mine as if to comfort me. Whether I turned my back on the world or the world turned it's back on me, I never felt like I was ever alone… With that being said, I'll leave you with this… a quote from the movie, Marley & Me…
"A dog has no use for fancy cars or big homes or designer clothes. Status symbols mean nothing to him…
A dog judges others not by their color or creed or class but by who they are inside.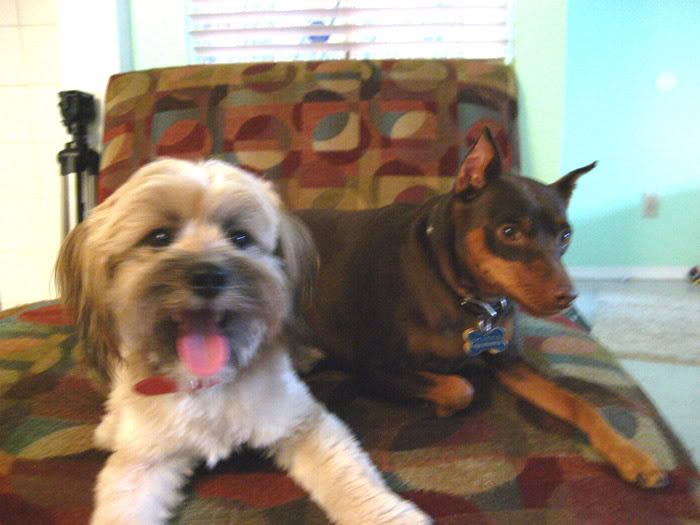 A dog doesn't care if you're rich or poor, educated or illiterate, clever or dull.

Give him your heart and he will give you his.

It was really quite simple, and yet we humans, so much wiser and more sophisticated, have always had trouble figuring out what really counts and what does not."
these last two "goodbye photos" are the last pictures of me and Cookie. They were taken the morning that we put her down… it's amazing not only how much stronger she looked that morning, but also how she managed to assure me that everything was going to be okay…
*sigh